Guy is one of my new blogger friends. He does campus ministry and his blog is a great resource for anyone who works with young adults. Check out his blog, Faith on Campus and follow him on Twitter!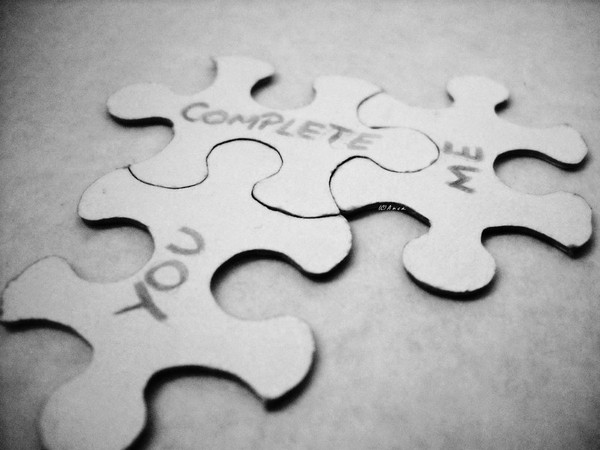 In the mid 1990s, the movie Jerry McGuire romanticized the notion of a soul mate — that one person that exists to "complete" us. Maybe you remember these infamous words that still conjure up feelings of desire, destiny, and fulfillment:
Jerry: Hello? Hello.

I'm lookin' for my wife.

Wait. Okay…okay…okay.

If this is where it has to happen, then this is where it has to happen.

I'm not letting you get rid of me. How about that?

This used to be my specialty. You know, I was good in a living room. They'd send me in there, and I'd do it alone. And now I just…

But tonight, our little project, our company had a very big night — a very, very big night.

But it wasn't complete, wasn't nearly close to being in the same vicinity as complete, because I couldn't share it with you. I couldn't hear your voice or laugh about it with you. I miss my — I miss my wife.

We live in a cynical world, a cynical world, and we work in a business of tough competitors.

I love you. You — complete me.

And I just had —

Dorothy: Shut up. Just shut up.

You had me at hello.

You had me at hello.
Nice, right?
But I wonder if you're just as familiar with the modern day hymn, In Christ Alone, penned by composers Keith Getty and Stuart Townend? No? I think it's one of the richest, most insightful songs of the new millennium for sure. Feel the weight and power of this first verse:
In Christ alone my hope is found, He is my light, my strength, my song;
This Cornerstone, this solid Ground, firm through the fiercest drought and storm. What heights of love, what depths of peace,
When fears are stilled, when strivings cease!
My Comforter, my All in All, here in the love of Christ I stand.
Incredibly moving in it's own right!
But here's the reality — only one of these two is truth, while the other a fairy tale.
Only one of these two is available to us — without reservation or pre-qualification — ALL of us.
Only one of these is worth our mind's constant attention, and our heart's unending affection.
Only one of these is worth our all out obsession.
Yet sadly, for far too many of us, we pick the wrong one to put all of our hope in. And so we spend much of our single life — trying not to be single anymore.
We spend our days and night obsessing over this guy, or that gal, and wonder if it will ever happen, or what to do now that it's happened, or what it might now take to keep it from falling a part.
Human relationships can be magical! But they're also a lot of hard work.
Don't get me wrong, I'm not against love — true love — pure love.
But I am against misguided love. I am against misplaced hope and unrealistic expectations.
I am against the belief that anyone — ANYONE — but Christ alone, has the ability to meet all of our needs, or love us wholly and completely, or quite literally "complete us."
So I wonder, what might life look like if we were to redirect that misguided love back towards the the One who is Love?
How might that reshape our current outlook on life and love? How might it impact ALL of the relationships that we are a part of?
And how might the redirected love ultimately serve to shape a future marriage relationship — if that were to happen? How might it change the kind of person you would be in that kind of relationship? How might it change the kind of person you'd look for in the kind of relationship?
We are relational beings, who are wired for a wide-variety of relationships — but only ONE is guaranteed us.
So let's stop obsessing over what may or may not ever happen. And let's start pursuing with great intention the One who loves us for who we are — right where we are — because of how we are.
What do you say?
—
Guy Chmieleski is the University Minister, at Belmont University, located in Nashville, TN. He is also the founder of FaithONCampus.com, a site designed to serve as: a resource, catalyst for conversations, and encouragement for all who work with today's college students. He has been married for twelve and a half years and has four small children.